The COVID-19 pandemic has made life difficult for all members of the society, and it is well accepted that persons with disabilities are at higher risk to the disease. In his policy brief, entitled "A Disability-Inclusive Response to COVID-19," the United Nations Secretary General pointed out that the pandemic is deepening inequalities in the society as   the health, social and economic impact on persons with disabilities (PwDs) is disproportionate. The Secretary General also stated that addressing the challenges and barriers faced by PwDs during COVID time requires committed and creative efforts to design and implement disability-inclusive response to the pandemic. In March 2020 itself, the WHO cautioned that persons with disabilities would be affected more significantly by COVID-19 unless Governments and communities adopt appropriate measures.
After the situation created by COVID-19 was declared as a national disaster in India, the Department of Empowerment of Persons with Disabilities issued comprehensive guidelines for protection and safety of persons with disabilities. These guidelines provided action points pertaining to health care, living arrangements and accessibility that address the sensory, cognitive and physical limitations of persons with disabilities. They emphasized the need to educate resident welfare associations and placed responsibility on State Commissioners to handle issues faced by PwDs during the crisis.
Though associations and communities are aware of the COVID risks to persons with disabilities living among them, many of them have not given due importance to their protection and safety. As per a complaint filed by Dr. Kalyan C. Kankanala, a person with blindness, his community association excluded him from community life and activities though they had full knowledge of the issues being faced by him. Dr. Kalyan's complaint alleges that community members of the Elita Promenade Apartment at J. P. Nagar, Bangalore, committed acts of discrimination and violated his right to live in the community by way of unreasonable restrictions, exclusions and differential treatment. The complaint also states that community members went a step ahead and initiated a stigmatizing and maligning campaign with the intent of depriving him his choice and options, which form the core of the right to live in the community under the disability law in India.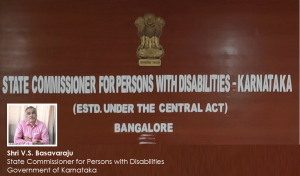 Dr. Kalyan C. Kankanala has filed the case before Shri V.S. Basavaraju, the State Commissioner for Persons with Disabilities (SCPD), Karnataka. The Elita Promenade Apartment Owners Association (EPAOA) and seven other members of the community have been named as respondents in the case. The SCPD heard the parties on 11 September 2020, and asked the EPAOA to take steps towards amending the byelaws and rules in order to   facilitate full and equal participation of PwDs and senior citizens. Mr. Basavaraju pointed out during the hearing that associations must work towards educating and sensitizing community members with respect to the rights and needs of persons with disabilities. The EPAOA has agreed during the hearing to constitute a committee with well-defined terms of reference as a first step towards making Elita Promenade a community that recognizes and respects rights of persons with disabilities.
The Cane Foundation's Disability Law Group has taken up the cause on Dr. Kalyan C. Kankanala's behalf and is providing him legal and research support. Speaking about the case, Mr. Rakesh Krishnan from the Cane Foundation said, "Every person has the right to live in the community with human dignity, and participate fully and equally in community life. Our objective is to facilitate   independence of choice and options of persons with disabilities in communities, and to make communities in India inclusive and accessible through legal action. Through our efforts, we hope to play a role in putting an end to patronizing and paternalistic attitudes in communities and help in removing social, cultural and attitudinal barriers that make it difficult for PwDs to live in communities as equals."
This case could be an important turning point for the rights of persons with disabilities in community life. Though the 2016 Disabilities Act of India provides several rights and entitlements to persons with disabilities, those rights have rarely been enforced against private establishments like resident associations. This case is expected to establish the much-needed standards for full and equal participation of persons with disabilities in social, economic and public life of communities in India.
About the Cane Foundation
The Cane Foundation was founded by three intellectual property attorneys with the objective of making a difference to the lives of persons with disabilities. The initial fund to The Cane Foundation was contributed by Professor Ramakrishna T., who is a senior faculty member at the National Law School of India University. During the first few years, the focus of the foundation is on persons with blindness.