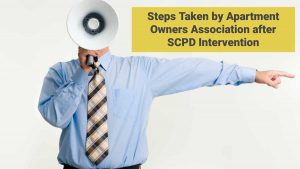 Filing of Case
In August, 2020, I filed a case against my Apartment Owners Association to enforce my right to live in the community and to participate fully/equally in community life before the Karnataka State Commissioner for Persons with Disabilities (SCPD). On September 11, 2020, Mr. V. S. Basavaraju, the Honourable SCPD, called the parties for a hearing before the Court of the SCPD. During the hearing, the SCPD heard the parties and directed the Apartment Association to take steps to remedy some of the issues raised during the hearing. He also asked the Association members to form a committee with clear terms of reference, and submit a report on their plan of action towards inclusion and independence of persons with disabilities in community life.
Steps Taken
In furtherance of the said direction, the Association has taken the following steps:
Initiated the process to place braille buttons in elevators;
Cleared obstructions such as bikes and dust bins in pathways to make them accessible; and
Removed discriminatory and maligning comments of community members.
The Association has also formed a committee to propose and implement steps towards facilitating independent living and full/equal participation of all persons in community life.
Commendable Steps
The initial steps taken by the Apartment Association are commendable. They reflect the community's intent to facilitate full, equal and independent participation of persons with disabilities in community life. However, there is a long way to go before full and complete equality, autonomy and independence are achieved.
Need for Guidelines/Rules
To initiate similar actions and steps in all communities, the Central Government has to frame rules under the RPwD Act that mandate resident welfare and apartment owners' associations to facilitate full and equal participation of persons with disabilities in all aspects of community life. Such rules will start the much-needed movement towards inclusive communities. That also fits squarely into the Accessible India policy of Government of India.
---
Support us!